Russian Volume
Eyelash Extensions Tel Aviv
The russian volume eyelash extensions (also known as 2/3/4/5/6/7/8D+) are very different to cluster lashes or flares, where multiple lashes are pre-fanned and come already bonded at the base – these types of lashes fall more into the false strip lash category, and are applied on to your eyelid.
The Russian volume extensions are all hand made on the spot – Lash by Jayne makes each bouquet, carefully fanning out multiple lashes using their tweezers right before attaching them to your lashes. The procedure is very delicate and much more intricate than classic extensions; absolute precision is a necessity.
Some commonly used terms for volume application:
2D- 2 lashes per one natural lash
3D- 3 lashes per one natural lash
4D- 4 lashes per one natural lash
5D- 5 lashes per one natural lash
6/7/8D – 6/7/8 lashes per one natural lash (aka as Hollywood)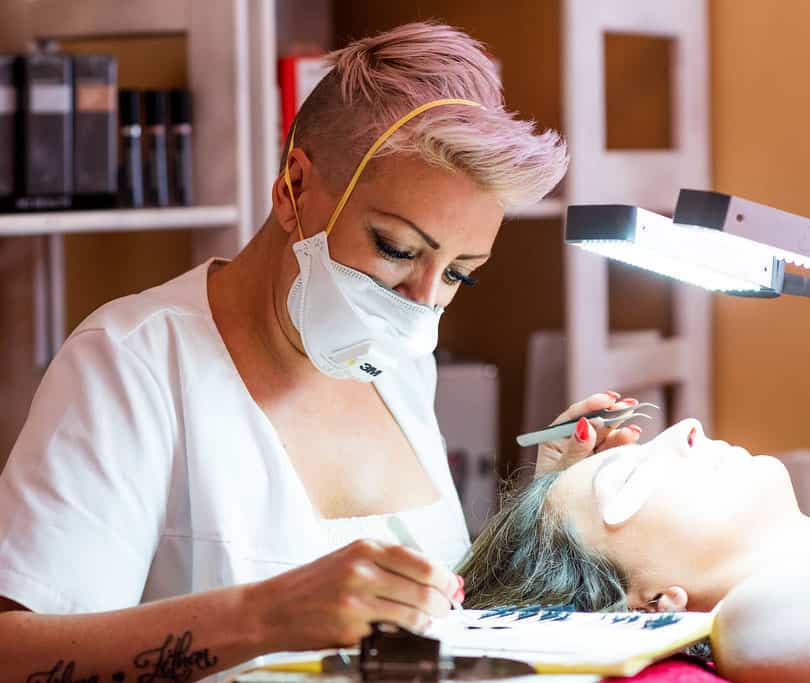 What makes russian volume different from classic?
With classic 1:1 eyelash extensions we can achieve amazing looks that CRUSH what even the BEST mascara can offer. However, we have always been limited by the amount of natural lashes a client has as well as the different amount of lashes on each eye. This pushes us to sometimes lash to the weakest eyelashes to maintain symmetry. For years many our clients have wanted…."MORE". Our only options were longer and thicker diameters, which became problematic when our client's natural lashes could not safely support these extensions.
Volume technique has become the answer!
Volume techniques allow us to apply hand made on the spot multiple extensions to ONE isolated natural lash. The "Russian Volume" technique masterfully achieves this with far thinner lashes than we have typically used. The result? A full, lush lash line that appears fluffy and soft and maintains the health and safety of our client's natural. We also use a significantly smaller amount of adhesive.
The main benefit of the volume technique is that, it has made it possible to give full, voluminous sets of lashes even if you have sparse, fine lashes naturally. Compared to classic extensions, the finish is much softer, fluffier, and multi dimensional. Due to the extremely light weight of the extensions, it has been known to last longer than classic extensions on some clients. And to touch are very very soft.
We can give you super natural or extremely full volume depending on what you want… And with my 15 years experience as solely applying lashes 12 months of the year I can design whatever look you want. Or you can leave it upto me to decide what I think will look the best.
Please be aware…
As the Russian volume sets become more popular, some salons have been offering the service without any training. I have had clients come in with multiple 0.15mm or thicker lashes stacked on top of each other. This is NOT the proper volume technique and can seriously damage your natural lashes! Please do your research and only choose qualified and experienced technicians to apply your volume set on you. Choose the best one!